<!

<!

<! THIS CALL IS NOW ON EBAY until July 9, 2013.
<! SEARCH. JIM DESTER AND TAKE A LOOK.





<! QH2012-5BW <!QuackHunter made out of Bastogn Walnut. Three top, three bottom triangles with fish scale carving on the barrel. The stopper has a hand carved (not checkered) diamond pattern with some of the diamonds lightly stippled.
<!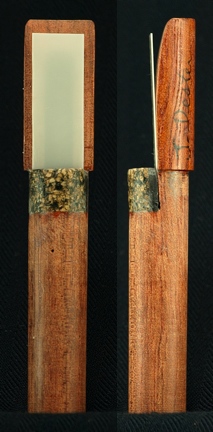 <! Tone Board
<! The tone board style was designed by Billy Hays & Jim Dester. Quackcalls tone boards are bloodwood and are hand made by Jim Dester. It is a one piece tone board that is inserted into an aluminum tubing that has been epoxied in the stopper. The stopper has two high quality ethylene-propylene o-rings to hold it in the barrel.